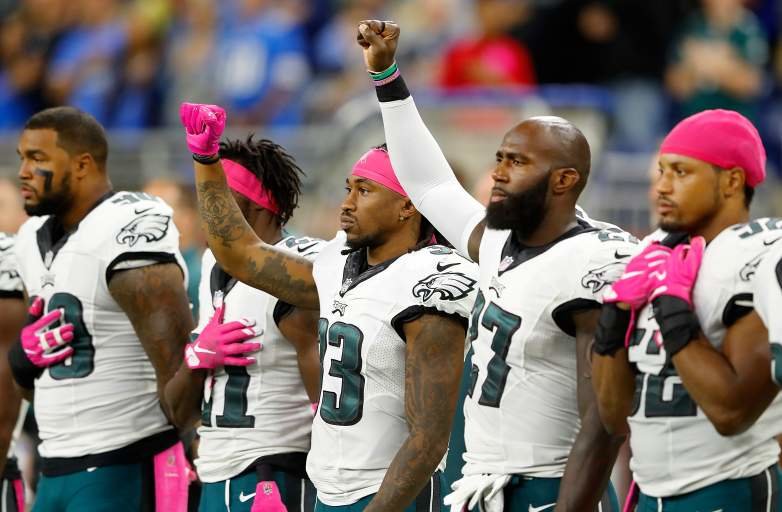 Good leaders would do well to follow the example set by Chris Long who donated his entire salary to charity. Long and Jenkins of the Philadelphia Eagles were instrumental in spreading unity and bringing positive change when faced with an ideological debate which was gaining plenty of momentum.
The NFL season of 2017 will be remembered for quite some time for the demonstrations of the national anthem which erupted in favor of racial equality and the political debate which followed and was divisive. However, fans in Philadelphia will have a moment to remember not just because the Eagles team went beyond tying the best record for the franchise and earning the highest playoff spot in the NFC. The fans of this team will forever remember this season for the special bond they witnessed between a pair of inspiring teammates who were selfless.
Support for new teammates offered by Chris Long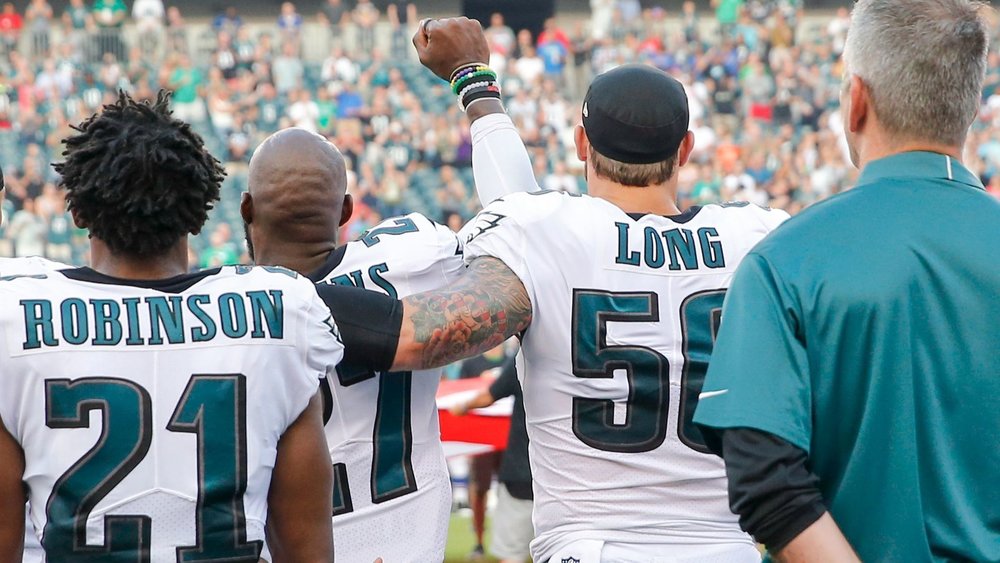 Chris Long is a defensive end and an off-season acquisition of the Eagles. This veteran was looking forward to showing support to his new teammates before the usual preseason warm-up match against Buffalo Bills. Long chose the moment just before the national anthem when he put his arm around Malcolm Jenkins the strong safety who had initially raised his fist for social equality in the air. The actions of Long managed to bring unity to the locker room and rippled through the Philadelphia region which has cultural and diverse ideologies.
The gesture by Long came after a week when during a white nationalist really in Charlottesville which is also Long's hometown was devastating for a crowd of counter-protesters because a Nazi sympathizer rammed his car in the crowd and injured several people while also claiming one fatality. Long instantly provided his response when he announced he would be donating the initial six game checks of the season for funding scholarships in Charlottesville.
Long mentioned in a press release that the streets in his hometown were filled with hatred and bigotry and him along with his wife decided to attempt to combat the actions by making a positive investment in their community by themselves.
The announcement was followed by another one in October when Long stated he would further donate the remaining 10 game checks to help downtrodden youth in the three cities he was playing for which were Philadelphia, Boston, and St. Louis. His announcement attracted national attention and even brought praise from former president Barack Obama. By indulging in this action Chris Long had pledged his entire salary of 2017 for the promotion of educational equality in the cities he was representing.
Malcolm Jenkins not far behind Chris Long in his generosity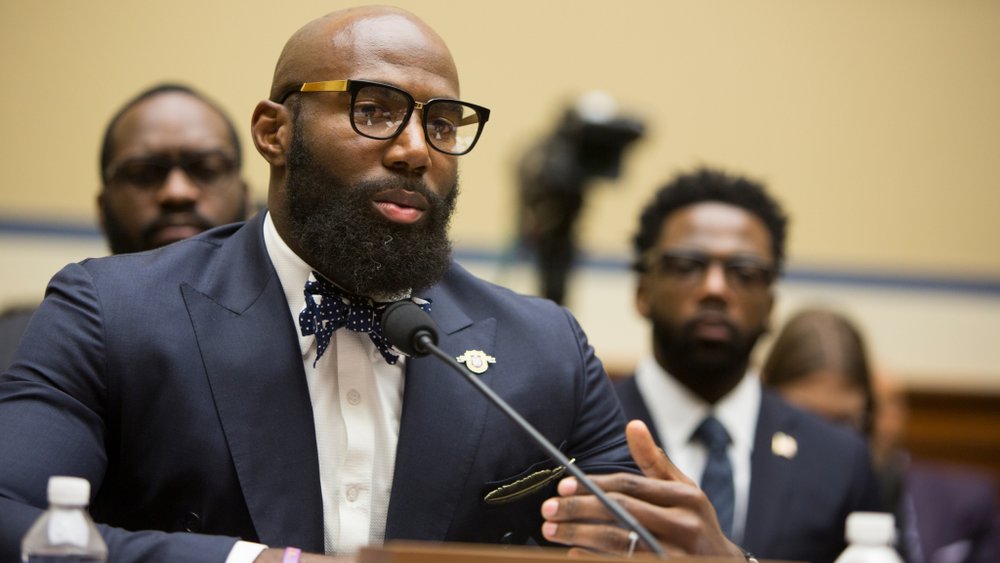 Jenkins was also in the news for some of his off-field activities. The Malcolm Jenkins foundation in 2017 exceeded a sum of $100,000 in scholarships which were awarded to graduating seniors from my school with nearly 50% of the amount going to college students of the first-generation.
The Jenkins foundation is committed to bringing positive changes among the youth from downtrodden communities, holding events and initiatives around the year in Pennsylvania, Louisiana, New Jersey, and Ohio. Jenkins has also emerged as a leader of the community in Philadelphia apart from his charitable foundation and is working to build trust and living in harmony with the law enforcement agencies of the city and the communities that are protected and served by them.
In a video released by the Eagles Jenkins issued a statement saying it is more important for professional athletes to use their platform, not just for monetary gains but also to make an impact other than promoting themselves. Jenkins was instrumental in bringing to the table leaders of the community and the law enforcement agencies in Philadelphia for a conversation which led him to do the appropriate things along with the police and get an in-depth look of what they were going through.
Spreading unity and generosity in the workplace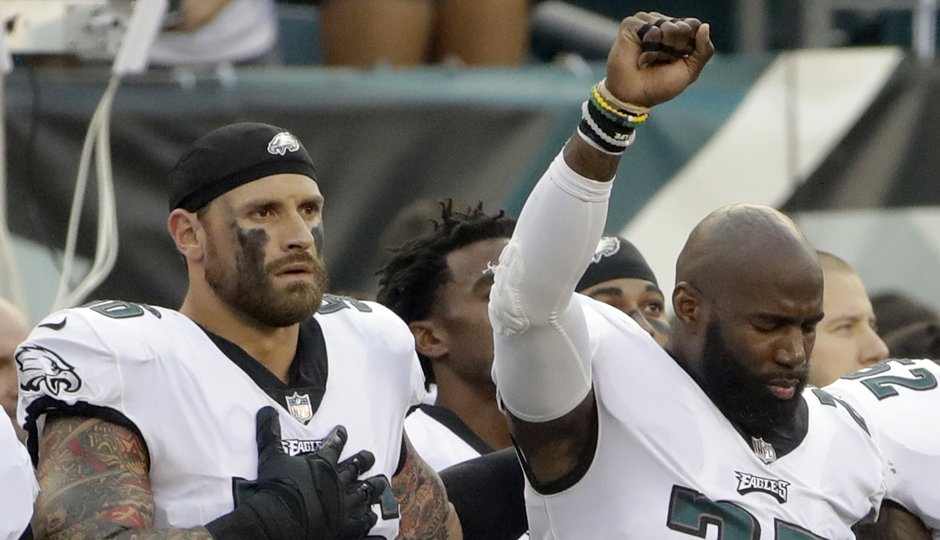 After donating their time and money for changing lives and improving the communities which they love Long and Jenkins are already in the pole position. Their preseason embrace may have been symbolic when confronted with the political rhetoric of the divisive kind but it was also successful to bring the team along with its fan base together before beginning one of their most successful winning seasons.
It is essential for business leaders to show their team they are willing to stand for values which are going past the bottom line by aligning themselves with charitable initiatives and the positive community because it unites the team and helps them to gain control over personal and workplace differences simultaneously.
Charitable initiatives and community engagement are providing employees with a greater sense of belonging to the activities they are involved in which is also helping to attract and retain talent. Fortune magazine had conducted a poll in 2016 for Morning Consult which revealed that nearly 66% of the respondents in the age group of 18 to 34 preferred working with the company which was involved in charitable work as compared to companies that weren't.
There is no need for individuals to donate their entire salary for uniting and inspiring their team. However Chris Long and Malcolm Jenkins have proven that community values can be weaved into the organizational culture to produce fantastic results.