The criminal law seems simple and straightforward, but there are some cases that capture our attention as well as our imaginations. When it comes to criminal cases, it's not always clear what exactly happened, and evidence is sometimes not nearly enough to enlighten the subject, so speculation is all that people can do in order to try and assemble all the pieces of certain crimes.
These are some of the most mysterious cases in the US criminal law history.
1. McMartin Preschool Abuse Trial
This was the longest and most expensive criminal trial in the US history, and it should serve as a cautionary tale. It was a day care abuse case of the 1980s. Members of this family were charged with numerous acts of abuse of kids placed in their care. Some of the accusations went far beyond that, causing a state-wide panic.
No proof was found of abuse, but due to improper questioning tactics, as well as false allegations from a mentally ill witness, even today we are not able to tell if there was really an abuse. In the end, when all was said and done, the government had spent $15 million and seven years investigating and prosecuting a case that ended in no convictions.
Even more seriously, this case potentially left behind hundreds of emotionally damaged kids, and ruined careers of the McMartin staff members. One of those who paid a huge price in this trial was Ray Buckey, the man who spent five years in jail, awaiting trial for a crime he never committed.
2. The Trial of Lizzie Borden
This unimaginably brutal crime resounds still through verse:
"Lizzie Borden took an axe,
And gave her mother forty whacks,
When she saw what she had done,
She gave her father forty-one."
This famous ditty captured the spirit of a gruesome murder from 1893. Its popularity is perhaps the best testament as to how massive the public fascination with this murder trial was.
Lizzie murdered her father and stepmother. She was 32 years old, came from a wealthy family, and according to all accounts from that period was a lady of good standing.
And no, the ditty is not correct, the Bordens did not receive 81 whacks, but merely 29, which was still unheard of. Given the age, gender, and background of the defendant, this crime was the hot topic of the century.
Even stranger was the jury's acquittal of Lizzie in spite of tons of prosecution evidence that historians find compelling even today.
3. The Trial of Dr. Sam Sheppard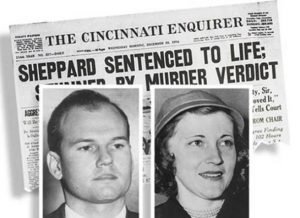 This murder is still a mystery, more than half a century passed since, and we can still not say with certainty what really happened. This is how the story went – On July 4, 1954, the wife of a handsome thirty-year-old doctor Sam Sheppard, Marilyn Sheppard was murdered brutally, bludgeoned to death, in the bedroom of their home in Bay Village in Ohio, on the very shore of Lake Erie.
According to Sam's story, the couple was watching the movie Strange Holiday with their neighbors on the evening of Marilyn's murder, and he fell asleep on the daybed in the living room. His wife escorted their guests. In the early morning hours, he heard her screams, ran to their bedroom, got hit unconscious, woke up, ran after the intruder, battled him by the lake, and then got knocked unconscious again. The doctor denied that he had anything to do with his wife's murder, and claimed that he had battled her killer whom he described as "bushy-haired".
The question remained until today – did he do it?
You see, almost every time when a mystery is not resolved at trial, subsequent admissions like previously uncovered clues, and more precise forensic tests reveal facts that the trial failed to.
This was not the case with the murder of Marilyn Sheppard. Sam Sheppard faced two different juries, twelve years apart, and he was found guilty by one, and innocent by the next, and the debate regarding his innocence is still ongoing.
In 2000, a third jury was asked to consider awarding the doctor's family damages for his wrongful imprisonment, and they sided with county prosecutors, declining this request. Then in 2001, a book on this strange case concluded that Dr. Sam Sheppard was indeed innocent.
Interestingly, only two years later, another book on this case claimed the exact opposite, the author was convinced that the first jury got it all right and that Sam was guilty as charged.
The imagination can do anything, but what was the real situation and who killed the poor woman will probably never be revealed.